Emotions
Best of My Love: The Best of Emotions (Legacy 1996) ant.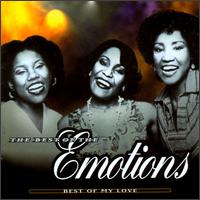 Tra le tante collection pubblicate sulle Emotions, questa é forse la migliore. Vi troviamo infatti un'ottima selezione di brani relativi al periodo 1976-1981, cioé quando le tre sorelle sono state legate agli Earth, Wind & Fire attraverso il loro leader Maurice White, che ha prodotto e scritto vari pezzi per i loro lavori migliori. La parte del leone la fa, giustamente, l'album "Rejoice"(77), dal quale sono tratte ben sei canzoni, tra cui le meravigliose "Best of my love" e "Don't ask my neighbors". Completano la raccolta brani tratti dagli altri quattro dischi del periodo, pił "Boogie wonderland" degli EWF, in cui le Emotions offrono una splendida partecipazione vocale.
Nel complesso un bel disco per conoscere i lavori pił interessanti di tre grandi voci della musica nera, che sono riuscite a fondere perfettamente il funky-soul con il pop pił raffinato.
Emotions are: Wanda, Sheila and Jeanette Hutchinson
Producers: Maurice White, Charles Stepney, Wayne Waughn
Musicians:
Drums: Maurice White, James Gadson, Fred White, Steve Ferrone
Guitars: Marlo Henderson, Al McKay, Roland Bautista, Greg Moore
Keyboards: Larry Dunn, David Foster, Gary Glenn, David Paich
Piano: Clarence McDonald, Jerry Peters, Skip Scarborough
Bass: David Shields, Verdine White, Neil Stubenhaus, Freddie Washington
Synthesizer: Larry Dunn
Percussion: Paulinho Da Costa, Fred White
Horns: George Bohannon, Louis Satterfield, Lew McCreary, Oscar Brashear, Steve Madaio,
Chuck Findley, Don Myrick
Tracks:
1. Best of my love
2. Flowers
3. I don't wanna lose your love
4. A feeling is
5. Me for you
6. Don't ask my neighbors
7. Key to my heart
8. Blessed
9. Rejoice
10. Love is right
11. All night, all right
12. Smile
13. Walking the line
14. Boogie wonderland
15. 'Cause I love you
16. Yes, I am