England Dan & John Ford Coley
The Best of England Dan & John Ford Coley (Big Tree 1979)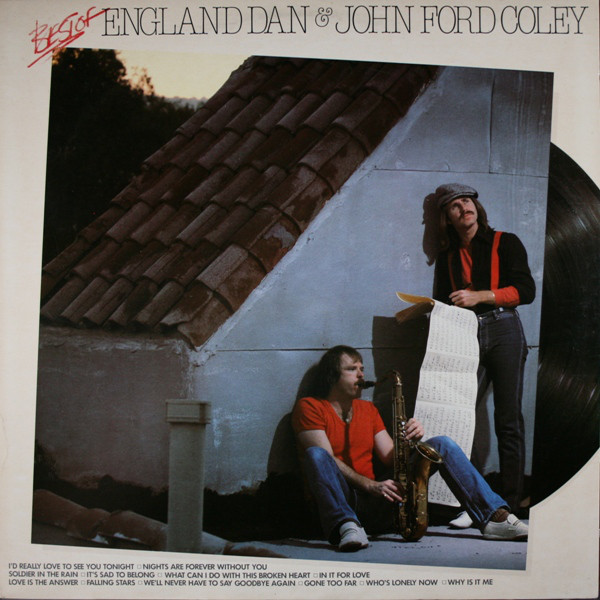 La carriera discografica di England Dan & John Ford Coley si chiude con questa antologia, che racchiude i loro pezzi migliori con l'aggiunta di due inediti. La scelta dei brani favorisce i singoli di successo ma sono presenti anche alcune composizioni di valore meno conosciute, mentre le due canzoni nuove, "In it for love" scritta da Greg Guidry e "Why is it me?" di Dan Seals, sono poco più che discrete. Nel complesso un buon greatest hits e, visto che nessuno degli album del duo é un capolavoro, in alternativa ci si può orientare tranquillamente verso l'acquisto di questo disco.
Producer: Kyle Lehning

Musicians:
Drums: Jeff Porcaro, Ed Greene, Gary Mallaber, Ralph Humprey, Danny Gorman
Bass: Leland Sklar, Wilton Felder, John Leland, Dee Murray
Piano: Jai Winding, Greg Phillinganes, Joey Carbone
Guitars: Steve Lukather, Dan Ferguson, Dan Seals, Steve Gibson, Lee Ritenour, Richie Zito
Organ: John Coley
Synthesizer: Bill Payne, Michael Boddicker, Steve Porcaro
Percussion: Steve Foreman
Sax: Ernie Watts, England Dan
Horns: George Cunningham, Don Sheffield, Billy Puett, Denis Solee, Dennis Good
Lead Vocals: Dan Seals, John Coley
Background Vocals: Sheri Kramer, Diane Tidwell, Lisa Silver, Janie Frickie, Ginger Holiday, Leslie and Kelly Bulkin
Tracks:
1. I'd really love to see you tonight
2. Nights are forever without you
3. Soldier in the rain
4. It's sad to belong
5. What can I do with this broken heart
6. In it for love
7. Love is the answer
8. Falling stars
9. We'll never have to say goodbye again
10. Gone too far
11. Who's lonely now
12. Why is it me ?